Luxury Distribution Platform 'Guhada' Collaborates with K-Fashion Brands
Guhada, a specialized luxury distribution platform led by CEO Yoon Jae-seop, has entered into a partnership with Visebeosa, a company developing AI fashion community services led by CEO Ahn Myeong-hoon, to sell products from 5 domestic designer brands in major domestic and international e-commerce malls.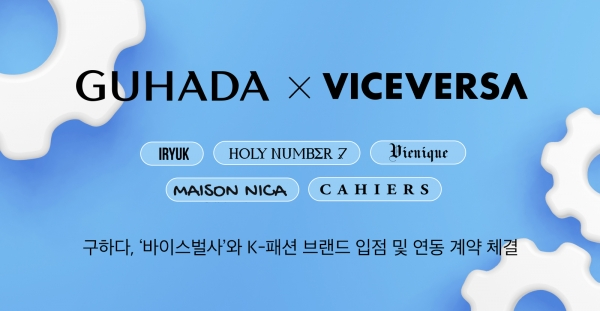 Guhada will be selling products from 5 emerging K-Fashion brands through its platform and various large e-commerce malls both domestically and internationally. These partnered brands are 5 new K-Fashion brands that gained recognition by participating in Seoul Fashion Week. Beyond dealing with luxury and renowned brands, Guhada, known for offering a diverse range of contemporary brands, will present unique K-Fashion products that cater to the needs of fashion enthusiasts and expand its contemporary product lineup.
Visebeosa is developing a fashion community beam (VIIM) that applies AI models created using users' faces through generative AI technology to fashion lookbooks. With the aim of effectively utilizing fashion and AI and securing more consumer engagement, Visebeosa plans to expand distribution channels and conduct various activities such as brand discovery both domestically and internationally.
Through its collaboration with Visebeosa, Guhada will connect products from 5 K-Fashion brands: △ Kkaie by KkaieNunie △ Maison Nika △ IRYUK △ Holy Number Seven △ Bieniek. These brands, leveraging Guhada's distinctive B2B2C-based luxury distribution network, will not only sell products on Guhada's platform but also through contracts with over 20 domestic and international e-commerce malls.
Kkaie is a women's fashion designer brand that embodies the elegance of curves in wearable designs. Maison Nika is known for its unique designs based on the brand philosophy of providing a fresh perspective on the familiar. IRYUK is a genderless brand that showcases the designer's unconventional sensibility by breaking conventions and structures.
Holy Number Seven is an eco-friendly brand that focuses on zero waste and recently gained attention by collaborating with the boy group DKZ to release a collection featuring messages to fans. Bieniek pursues the value of "Stay gold always" and presents luxurious wear with elaborate designs and details, targeting both celebrities and the general public.
These 5 K-Fashion brands, including Kkaie, continue to introduce collections with strong individuality, gaining recognition both domestically and internationally. They will not only increase brand awareness through Guhada's B2B2C product integration services but also be introduced to the public alongside luxury brands.
Guhada aims to open sales channels for K-Fashion brands, offering tailored curation for different malls using big data, and supporting their growth into brands that rival luxury products.
Guhada's CSO, Cho Kyung-hwan, stated, "Interest in K-Fashion is hotter than ever both domestically and internationally. This collaboration with K-Fashion brands is a pilot project, and we plan to expand our connections with various domestic emerging brands in the future." He also mentioned, "As Guhada has expanded into a hub platform connecting brands and sales channels, we will continue to discover various contemporary products and establish partnerships with various e-commerce malls to captivate consumers' preferences."




명품 유통 플랫폼 '구하다', K-패션 품는다
서울패션위크 오른 디자이너 상품 B2B2C 연동
20여개 종합몰·버티컬 패션 커머스서 판매
명품 유통 전문 플랫폼 구하다(대표 윤재섭)가 AI 패션 커뮤니티 서비스를 개발하는 바이스벌사(대표 안명훈)와 계약을 맺고 5곳의 국내 디자이너 브랜드 상품을 국내외 대형 이커머스몰에서 판매한다.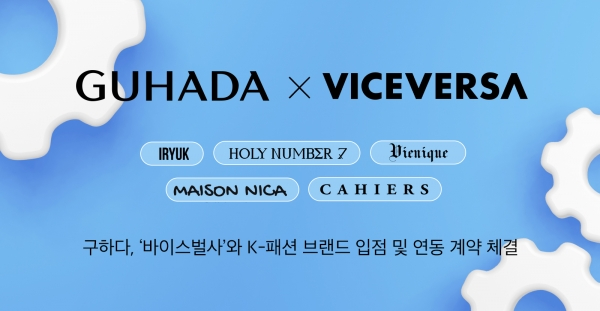 구하다가 5곳의 신진 K-패션 브랜드 상품을 구하다 및 국내외 대형 이커머스 몰에서 판매한다.
연동 브랜드는 서울패션위크에 참가해 이름을 알린 신생 K-패션 브랜드 5개사다. 그간 럭셔리 명품뿐만 아니라 신명품이라 불리는 다양한 컨템포러리 브랜드 상품을 취급해 온 구하다는 패션피플들의 니즈에 부합하는 유니크한 K-패션 상품을 선보이며, 컨템포러리 상품군을 확장한다.

바이스벌사는 생성형 AI 기술을 활용해 사용자의 얼굴로 AI 모델을 만들고, 이를 패션 룩북에 적용할 수 있는 패션 커뮤니티 빔(VIIM)을 개발하고 있다. 국내외 패션 및 AI의 효과적인 활용뿐만 아니라 더 많은 소비자와의 접점을 확보하기 위해 유통 채널 확대, 브랜드 발굴 등 앞으로 다양한 활동을 추진할 예정이다.

구하다가 바이스벌사와의 계약을 통해 상품을 연동하는 K-패션 브랜드는 △까이에의 까이지엔느 △메종니카 △이륙(IRYUK) △홀리넘버세븐 △비에니끄 5곳이다. 이들은 구하다의 독보적인 B2B2C 기반 명품 유통 네트워크를 바탕으로 구하다 자사몰 및 구하다와 연동 계약을 맺은 국내외 이커머스 몰 20여개에서도 상품을 판매하게 된다.

까이에는 곡선이 가진 우아함을 웨어러블한 디자인으로 풀어낸 여성복 디자이너 브랜드다. 메종니카는 익숙한 것에 새로운 인식을 준다는 브랜드 철학을 바탕으로 유니크한 디자인을 선보여 주목받고 있다. 이륙(IRYUK)은 젠더리스 브랜드로 관습과 구성을 파괴하는 디자이너의 자유분방한 감성을 보여준다.

홀리넘버세븐은 제로 웨이스트를 지향하는 친환경 브랜드로 최근 보이그룹 DKZ와 협업해 팬들에게 남기고 싶은 처방의 메시지를 담은 의상 컬렉션을 출시해 이목을 끌었다. 비에니끄는 'Stay gold always(언제나 고귀함과 우아함을 유지하라)'를 추구해야 할 가치로 삼고 화려한 디자인과 디테일이 돋보이는 럭셔리웨어를 셀럽 및 대중에게 선보이고 있다.

까이에 등 5곳의 K-패션 브랜드들은 지속적으로 개성 강한 컬렉션을 선보이며 국내외에서 이름을 알리고 있다. 이들은 또한 구하다가 제공하는 B2B2C 상품 연동 서비스를 통해 브랜드 인지도를 높이는 것은 물론이고, 럭셔리 브랜드들과 함께 대중에게 소개될 예정이다.

구하다는 K-패션 브랜드에 판매 채널을 열어주고 빅데이터를 활용한 몰별 맞춤형 큐레이션을 제시함으로써 이들이 명품에 버금가는 가치를 지닌 브랜드로 성장하도록 지원할 계획이다.

구하다 조경환 CSO(최고영업책임자)는 "국내외에서 K-패션에 대한 관심이 그 어느 때보다 뜨겁다. 이번 K-패션 브랜드 연동 건을 시범으로 앞으로 여러 국내 신진 브랜드와의 연계를 확대해 나갈 예정"이라고 밝혔다. 또 "구하다는 브랜드와 판매 채널을 잇는 허브 플랫폼으로 확장해 온 만큼 다양한 컨템포러리 상품을 발굴하고 여러 이커머스 몰과 파트너십을 지속해 소비자들의 취향을 사로잡을 것"이라고 말했다.

출처 : 한국섬유신문(http://www.ktnews.com)